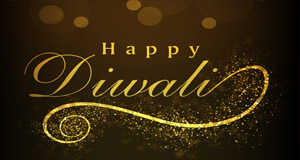 Diwali is the India's biggest and much-loved festival celebrated with happiness & enthusiasm. It is well known as the festival of lights. This festival is celebrated by millions of Hindus, Janis, Sikhs & other Indian religions & Diaspora communities all around the world. It is arguably one of the biggest religious celebrations, when homes, shops, streets, institutions & entire neighborhoods' are decorated with the earthen lamps, candles & fairy lights on the auspicious moonless night. Diwali is a celebration that signifies the victory of light over the darkness. This year Diwali is coming on Thursday, October 19, 2017.
On this day Lord Rama returned excitedly to his house in Ajodhya after exiled by his stepmother of fourteen years with his brother Laksmana & wife Sita. As exiled in the forest, Sita was made prisoner by Ravana who was the king of the monsters. Rama recaptured Sita after defeating Ravana & then they came back to Ajodhya for Ram-raj which was said to be untroubled & prosperous. At that time all the peoples of Ajodhya placed earthenware lamps known as diyas made with a mixture of ghee & coconut oil & wicks of cotton string around their houses, from that time Diwali is celebrated.
Some peoples celebrate Diwali to remember the comeback of Pandavas to their kingdom after twelve years of Vanvas & one year of agyatavas (acc. to Mahabharata). It is also supposed that it was started celebrating when the Goddess Lakshmi was born after churning the ocean by demons & gods. Diwali celebration also signifies the beginning of a new Hindu year in the west & some northern parts of India. Diwali is celebrated by Sikh religion to mark the Bandi Chhor Divas with lighting up the Golden Temple. It is celebrated by Jain religion to mark Nirvana attained by the Mahavira. Diwali every year comes after the twenty days of Dussehra & also it is the beginning of winter.
It is five days long festival that starts from Dhanteras & ends on the Bhaiduj. Before Diwali celebrations, peoples clean their houses, offices & surroundings of their homes to celebrate this festival in the best possible way. Some days before the starting of Diwali festival there is too much rush in the markets as the people buy ornaments, clothes, sweets, decorative things, utensils, firecrackers, electric bulbs, idols of Lakshmi & Ganesha and much more. Added to these lots of shopkeepers have several offers on this auspicious occasion that attracts more people.
On this auspicious day, the entire country remains brightly lit with the non-stop fireworks throughout day night. Lamps or diyas are lit outside each house in the evening. People wear new clothes & make prayer offerings to God for well-being, prepare & exchange sweets with each other on Diwali with the great delightfulness.
However, in these days there is a campaign run by the government to celebrate the pollution free Diwali all over the country. Various organizations & schools also organize different demonstrations before the celebration to educate & aware students for the pollution-free festival. Supreme Court has been banned bursting sound-emitting firecrackers to tackle pollution.
May this Diwali Light up fresh hopes, new dreams, undiscovered avenues & different perspectives, everything bright & beautiful & fill your days with pleasant surprises & moments.
Wish you a very happy & pollution free Diwali!